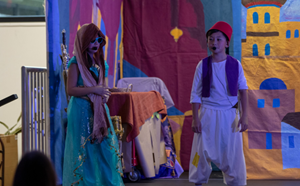 Students and staff at Faylane Elementary School recently performed their production of Aladdin as part of the Disney Musicals in Schools Program. GGUSD is proud of this partnership that helps bring childhood favorites to life! Visual and performing A…
Principal's Message
Click here for the 2018 Principal's Message
Garden Grove Unified School was recognized as a CA Distinguished District in 2018. Faylane Elementary was among 11 GGUSD elementary schools who received the 2018 CA Distinguished School Award. This award marked the beginning of Faylane going FAR. "F.A.R." stands for "Focus * Act * Reflect," a part of the GGUSD Strategic Plan that resides in Goal 1C (Academic Skills- Scholarly Habits) and Goal 2ª (Personal SkillsMotivation). FAR emphasizes 6 descriptors; believe in yourself, make a plan, take action, control your thoughts, make changes, and know how you did. I am confident Faylane will go FAR, very far, as we pursue these descriptors.
I am a fan of Star Wars. As several Falcons now know, I actually have a variety of interests. I am an avid Denver Broncos fan, I have an interest in martial arts, I enjoy surfing and soccer, I am a father and husband, I'm an active church goer… I like superhero movies, sepecially Marvel! Yoda makes a few epic statements in his movie appearances (it's always great to learn from a muppet!) "Do or do not, there is no try," and "Difficult to see. Always in motion is the future." I have to disagree with Master Yoda in favor of the FAR model. I agree with his "DO." When one's plan and actions don't go the way that is hoped, such attempts (or "trys") should be evaluated ("know how you did") and changes should be made. By such attempts, failures, and "retrys," a person's future is forged. Be like Mr. Devin, try with 3 wheels first until you can move to 2!
As I came to Faylane, I experienced both personal triumph and setback connected to the same event. After 10 years of training, I received a black belt in Karate. Related to this, I greeted my new Faylane staff and community with an ugly black eye, startling teachers and scaring students. I didn't look so good, and I absolutely did not win the related sparring match during the test! With growth sometimes comes bruising and the pain of attempt… and defeat. In this case, I both "DID and DID NOT." And I tried! I am believing that Faylane students, community and staff will LIVE LARGE; try hard (while at times we will attempt and "do not"), overcome bruising, change the plan, DO and DO MORE! Pursuing their passions, focused on academic interests, filled with future possibilities; whether robotics or writing; coding, engineering, science or musical performance, Falcons will continue to go FAR! Fly on, falcons, may we soar…. higher!
Mike Ingalls
Our School
Welcome Faylane Falcons!
We are excited for a new school year which will lead to new academic and personal skills for our 530 scholars. The academic excellence of our scholars was recognized recently as Faylane Elementary School was named a 2018 California Distinguished School, an elite honor for the state's most successful public schools. Faylane was also recognized on the 2018 California Honor Roll for high achievement in student success, reduction in achievement gaps, and high college readiness in students.  
The outstanding programs and opportunities that contribute to our school's success include: 
1:1 computer to student ratio with a full-time technology specialist; students use Chromebooks and iPads each day to enhance learning and gain technology skills
Before and after school coding, robotics and STEM classes teach students important skills to thrive in the 21st century
Before and after school academic intervention which provides students with extra support in English and math and is offered by our amazing teachers
The Disney Musicals in Schools Production which gives students an opportunity to perform some of their favorite Disney fairy tales

Boys and Girls Club provides second through sixth grade students with homework help and other fun engaging activities in art and athletics

College and Career Mentoring pairs sixth grade students with a college mentor who provides academic and personal support and serves as a positive role model
Our popular soccer tournaments occur during recess and lunch and are led by students and parent volunteers 
Popular choral, band and orchestra programs bring out the inner musicians of our students
Social-emotional support and mental health resources with school psychologist, speech therapist and counselor

Our online programs are helpful, giving students access to online resources that will help them stay on track in school.  These programs include Accelerated Reader, MobyMax, Read Live/Read Naturally, Imagine Learning and ST Math.

The PAL Program is a service oriented leadership group at the upper grade level which volunteers in the community and plans service events at school

Our Anti-Bullying Program, K.I.K (Kind is Kool) Bullying 4 Happiness, helps promote kindness and fosters a positive school culture

Dedicated PTA plans organizes fundraising efforts, plans fun events at school and helps make field trips possible for all students
At Faylane, we celebrate our students for their many accomplishments with athletic awards, monthly character awards, trimester awards for attendance and reading, Principal's award and the Honor Roll.  
Faylane's parental involvement is out of this world with the high levels of attendance in our parent classes! Our campus offers classes such as the 40 Developmental Assets of Education, the 10 Commandments of Education, Latino Literacy, Drug Awareness Education and Communication With Your Child in a Tech-Driven World.  Our success is due in large part to the high engagement of our parent volunteers.   
We look forward to another successful school year.  Do not hesitate to stop by our office with any questions or concerns!